I was very excited to get a call from Angie at Eyestorm asking if I would like to place some of my work in the Barbican Curve Gallery.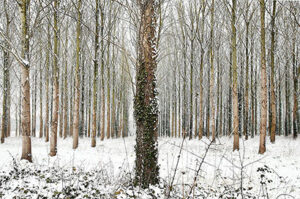 Coming up to Christmas this was a great time, we decided to exhibit the large format Snow Tree Panoramas, the largest being 2.25 meters long, a large space like the Curve would suit it well.
The images are set in  acrylic reverse,  an archival C type print is mounted on an acrylic base, an optical gel applied and clear acrylic front applied, compressed to laminate the print the end result is stunning, If you always wanted to see images presented on a wall and wished there was no frame, this is as near as you'll ever get.
As well as The Snow Trees I also placed a Tree Divers print.  The show really was interesting and a great success,  some lovely work and a great show to participate in.  The Snow Trees then went onto the London Art Fair, again gaining a lot of attention.
If youre interested in purchasing my art then please take a look at Eyestorms website.